"Just keep on shaking that thang, girl. She a good girl, but you know she bad though," are just some of the many lines Cameron raps in his latest single, "She Bad" – which also features the group Sj3.
Will Viner-turned-rapper Cameron follow in the big success of fellow Magcon musician Shawn Mendes? What do you think?
Cameron Dallas Releases The "She Bad" Lyric Video, Begs Fans to Send It to #1 on iTunes
Update: The song has failed to top U.S. iTunes. Can the music video save it?
The lyric video features Cameron head-bobbing in a purple-lit room as he looks off-camera and raps lines like, "Yeah, she might get ratchet."
According to the lyrics, Cameron appears to be rapping about a spoiled daddy's girl that loves to party and shake her a**.
ARVE Error: API endpoint returned a 403 error. This can occur when a video has embedding disabled or restricted to certain domains.
"Following everyone that buys the song AND rates it five stars!" Cameron tweeted, as he encouraged fans to trend #SheBadToNumberOne.
Although the song is not too near the top spot on iTunes (as of writing), never underestimate the power of a possible Twitter follow. Cameron previously managed to launch his movie Expelled to the #1 spot.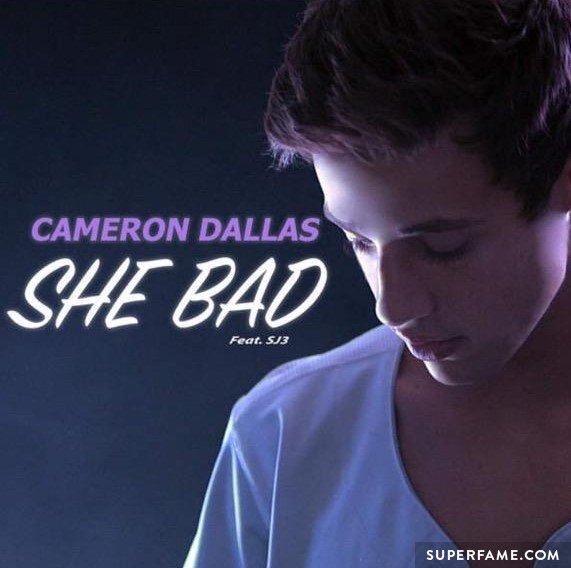 Fans managed to get #SheBadToNumberOne trending worldwide for hours.
Viners Support Cameron's New Rap Career
A slew of Viners came out in support of Cam's new rap career – including Aaron Carpenter, Taylor Caniff, Christian Delgrosso, Jack Gilinsky, Jack Johnson and Matthew Espinosa.
Fans Praise His Rap Prowess: "He Reminds Me Of Justin Bieber!"
Many fans compared him to pop's bad boy Justin Bieber.
With Cameron recently getting arrested for possible property damage, just like Justin – it might actually happen.
"Just when you think he couldn't get any hotter! How can someone dislike this? OMG Cam you have to make more music! You're amazing! D*** he's a rapper, oh s***!" some fans exclaimed in the comments.
Other Fans Criticize Him: "Absolutely Dreadful!"
As with most YouTuber and Viner attempts at making music – the majority of the top-voted comments were negative.
"I'm actually serious – is this a joke? Because this is absolutely dreadful," one fan said.
"He know he has a bad grammar," another posted sarcastically.
"Just stick to Vines and modelling! It's sad when you have money and a huge fan base…when there are real and talented artists who have been working in the music industry who deserve to be number one in the charts!" another critical fan wrote.
Many people are still confused why YouTubers and Viners are suddenly deciding to launch music careers.
"What the fuck," the top comment in the video said.
Fans Compare Cameron Dallas to Shawn Mendes
Shawn Mendes, the resident Magcon musician, is currently promoting his debut album this week.
Many fans compared Cameron to Shawn. "All I know is Shawn is the only talented one in Magcon. No hate. Just sayin," one top comment wrote.
Others urged the duo to make a collaboration.
Have you bought the single? Love it or hate it?