Move over, Michelle Phan! We've got a new beauty guru on the loose, and a brand new skincare and makeup line. Trisha Paytas announced her new line, "Feel Like Trish", just in time for the Black Friday rush.
She developed three launch products themed around tanning, with private label firm Visage Pro. Basically, what Visage Pro USA does, is offer a series of custom pre-made formulations that anybody can slap their own labels on.
We know Trisha is working with Visage Pro, because the Feel Like Trish site owned and operated by them – which is mentioned right at the bottom of her privacy policy page.
We're not going to pay actual money to buy Trisha's stuff for review – we'll be investigating the mysterious company behind the products, and you can decide if it's worth it.
Update: Trisha recently launched a lubricant line based off Visage Pro USA's XTC Get Wet line.
What Is Trisha Paying Visage Pro USA to Do, Anyway?
As a private label firm, they essentially work with anybody to create, develop, produce, package your product.
There are three choices you can make. You can slap your label on a product as-is, you can customize a product formula, or you can make a completely new formula.
Basically, anybody can launch a line as long as you can pay for it. They mention that prices can vary depending on the formulation, quantity, packaging and ingredients.
According to the FAQ section in their own catalog, you'll also need to pay a $750 upfront fee per product that covers the R&D and formulation. If you want to adjust the formulas, you're going to need another $350.
According to them, it may take two to six weeks to get an actual sample – if the ingredients are in stock.
Who's behind the Company Making Trisha's Products? Is It a Scam?
According to the Better Business Bureau, Visage Pro USA is run by president and founder Sherrie Berry Kromis. It is a small firm with only eight employees located in Carlsbad, California.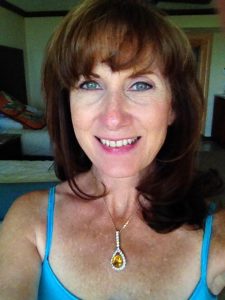 Founder Sherrie also has another line called Skin Again that was founded in 2003. She describes it as infusing "energies of healing elements" from "movement and energy" embedded in living things.
According to Sherrie, she was inspired to launch her line(s) after getting burned at her fire pit. She decided her life's mission was to help others who had skin conditions even worse than her burns.
The CEO & Lead Product Developer Has No Scientific Credentials and Believes in Energy Healing
According to her own LinkedIn profile that she wrote herself, Sherrie has zero formal qualifications in skincare, and used to do teaching and interior design.
She lists some of her interests as "Energy Healing", "Quantum Science" and "Ascension".
Sherrie also lists herself as being an "expert" in the field of "bio-compatible vibrational essence frequencies" which supposedly "create auras of harmony" around your body when the products are slathered on your skin. She calls her products "vibrational skin care" that "infuses frequencies".
Do you really trust a company whose president, founder, and lead product developer has zero scientific credentials and believes in debunked, pseudo-scientific, magical fantasy garbage?
According to Sherie, all her products harness this "magical energy". When you apply her products onto your skin, they slow aging by "kick starting the energy" of skin cells.
This sounds a lot like the incredibly dodgy Energy Medicine field, which a majority of scientists and researchers consider to be complete quackery.
Here's a slide from Visage Pro USA's 2014 catalog – which brags about their products being given an "energy infusion" as a unique point of difference.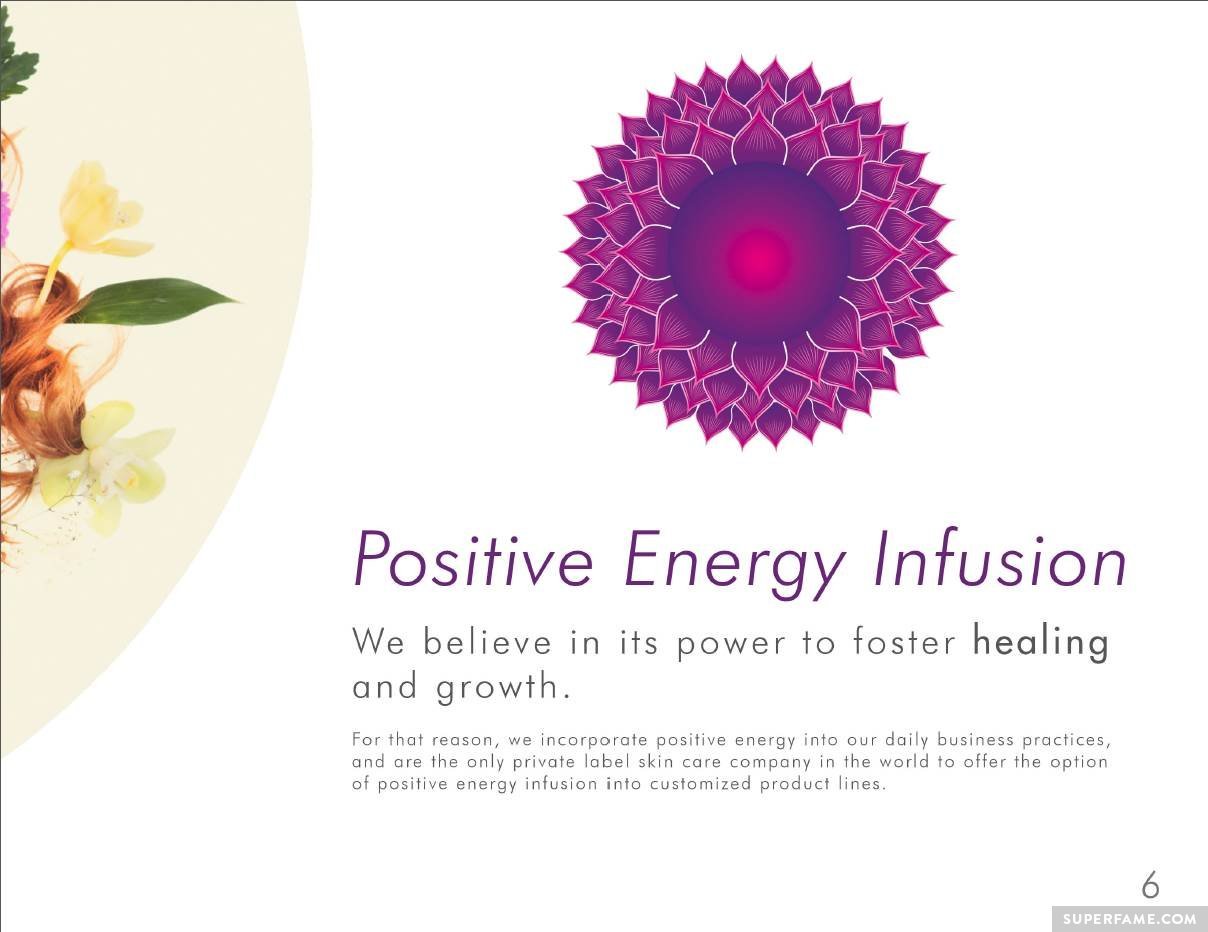 Trisha's Exfoliating Body Polish is a Re-Labeled "AHA Body Exfoliating Cleanser"
Since Trisha Paytas decided to slap her packaging and labels on existing products, we're going to be identifying the products she chose to slap her launch labels on.
You can check out Visage Pro USA's catalog yourself, where these screenshots where taken from.
First up is her Exfoliating Body Polish. Trisha is selling this product at a price point of $20. She mentions it contains Alpha Hydroxy Acids and "micro-spherical" jojoba oil beads that can both moisturize and remove dead skin.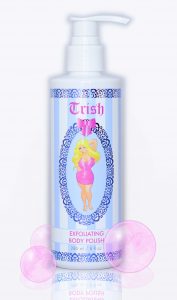 We've matched this to the AHA Body Exfoliating Cleanser product. The official product description also mentions Jojoba beads, AHA, and also Citrus Grandis (Chinese Grapefruit) extracts that are meant to exfoliate and maintain pH balance.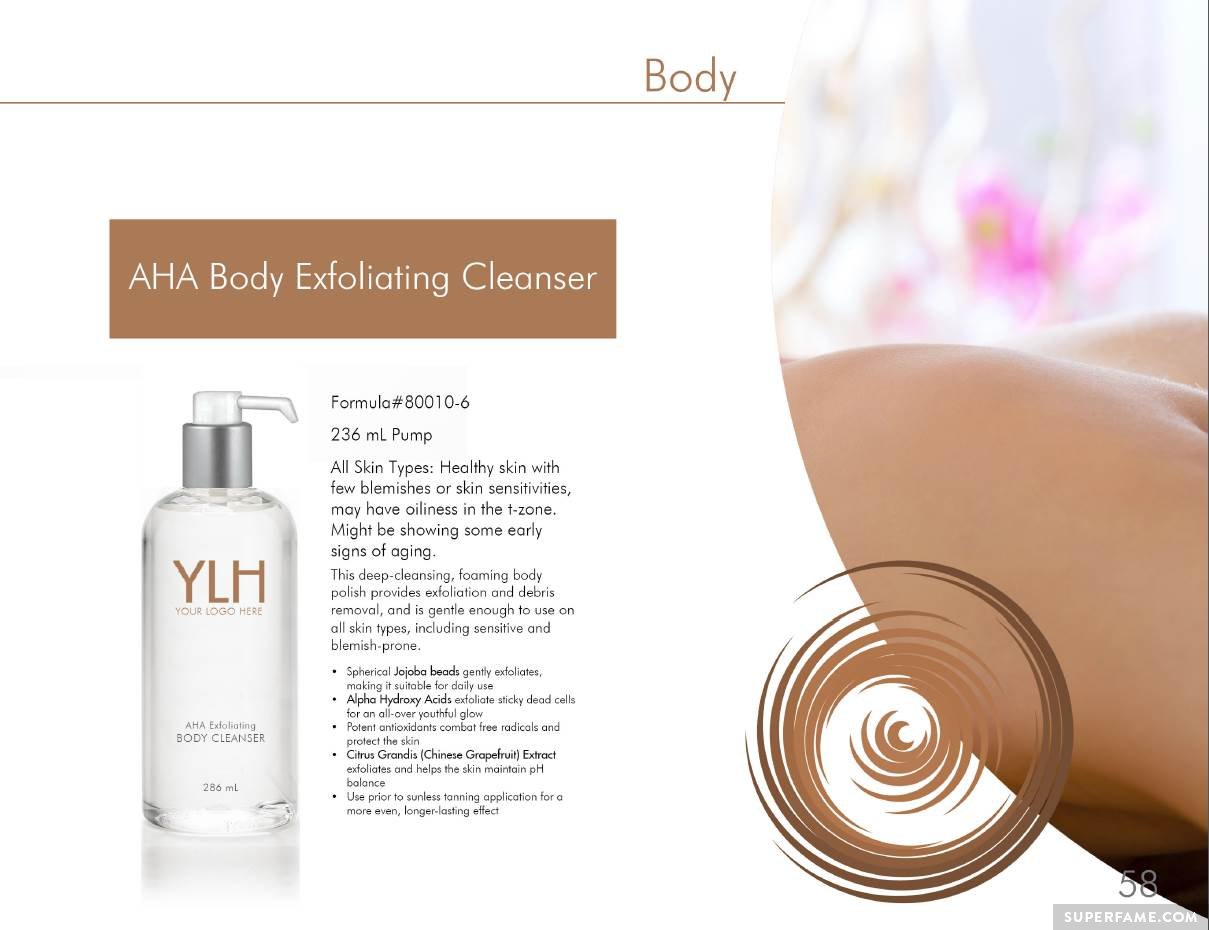 Trisha's Anti-Aging Sunless Tanner Is The "Self Tanner" Re-Branded
Have $36 to blow? Trisha mentions this product is anti-aging because of "peptides" and some kind of "color intelligence science". You'll be smelling like an island fruit in a non-greasy, non-orange and streak-free formula, she says.
From her description, we have matched this particular product to the "Self Tanner" listed by Visage Pro – which also mentions "peptides" and a scent made up of Apricot, Apple, Vanilla, Coffee and Coconut
The highlighted ingredient is Butyroyl Pentapeptide-24, which they claim can increase skin elasticity, firmness and elasticity – on first application. Big claims.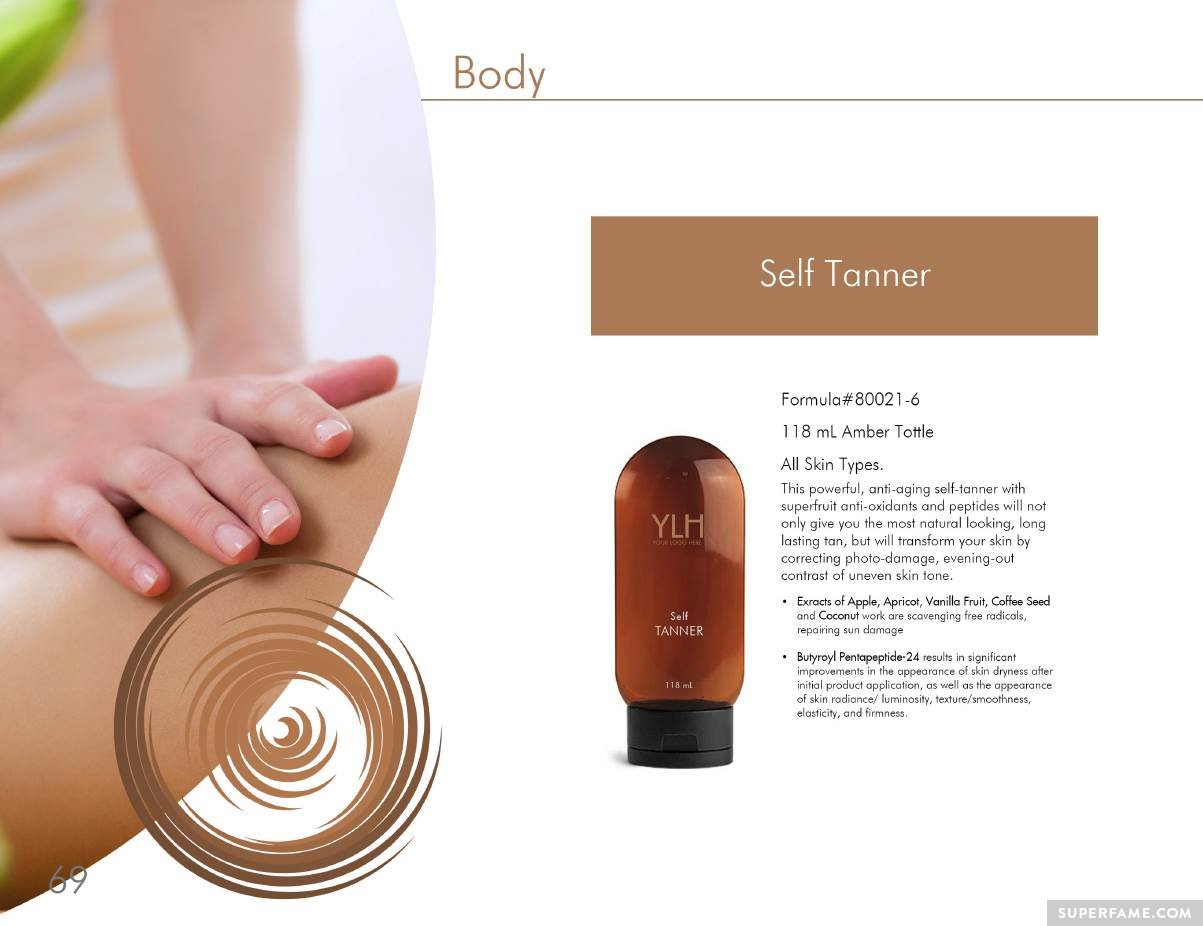 Trisha's Shimmering Body Bronzer Is a Re-Labeled "Body Bronzer"
This product is described with features like "non-transferable" and "non-greasy" – and is currently going for 36 dollars.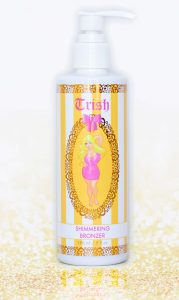 This has been matched with the similarly-named "Body Bronzer", which boasts Apple Extract as a key feature.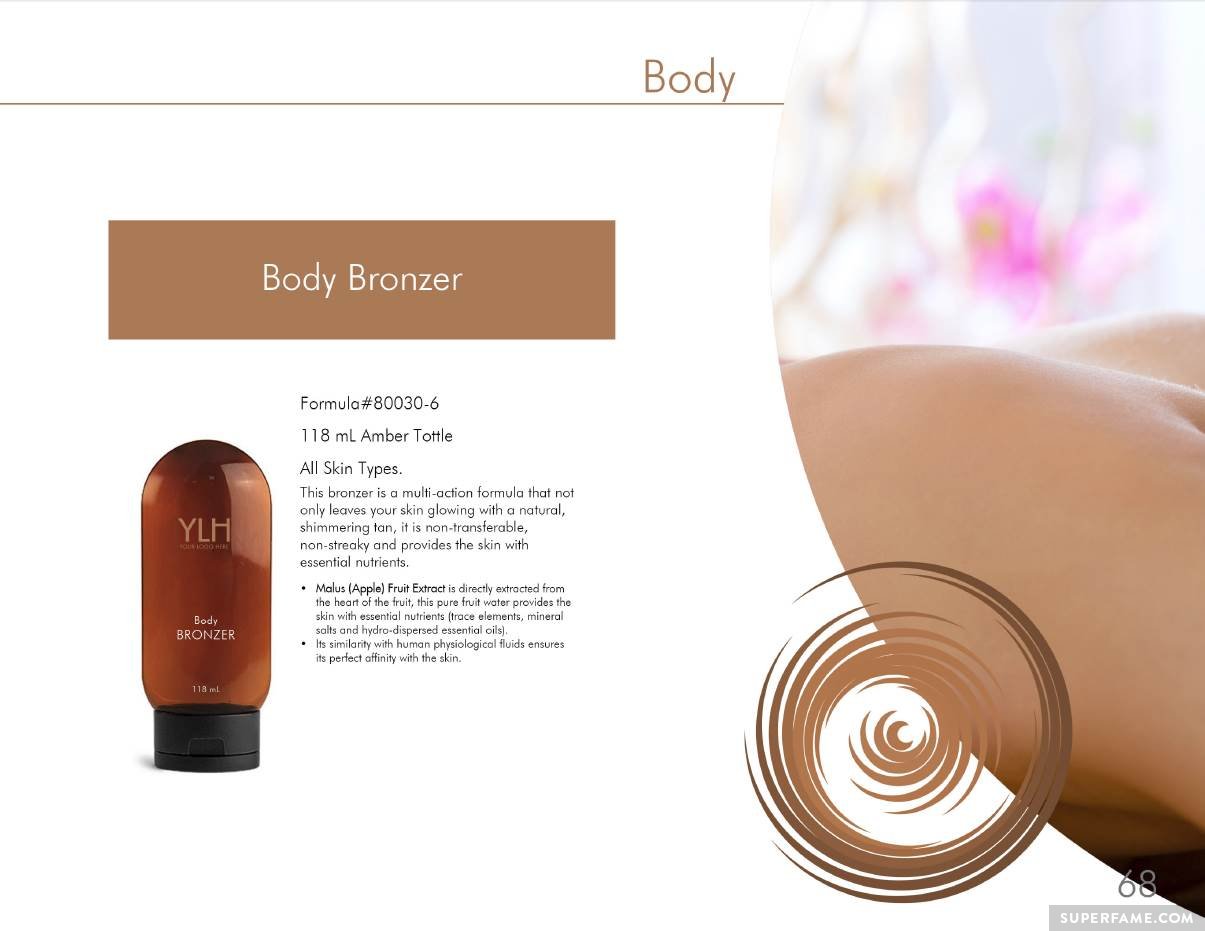 Conclusion
If you're looking to actually use Trisha's re-labeled products on your skin on a daily basis – we recommend buying from more reputable brands with higher quality and better prices.
However, if you're just treating her products as YouTuber merchandise – like a DistrictLines t-shirt – or if you think the packaging is so gorgeous it must be displayed on your mantelpiece, there's nothing stopping you.
Will you be supporting Feel Like Trish?