Unable to shake off the "homophobe" label from his name, Nash Grier (or his ghostwriter) has penned yet another apology for the
Huffington Post.
While some companies like Aeropostale and Nordstorm are not at all reluctant to hire Nash as a spokesmodel – Nash is sure to be seeing the "homophobe" label prevent him from getting other lucrative jobs.
For example, friend Cameron Dallas recently starred in AwesomenessTV's movie Expelled.
Nash Says He's Sorry for Posting That One Vine, Doesn't Apologize for Anything Else
In his entry in the Huffington Post, Nash explains how his upbringing in North Carolina contributed to his anti-gay worldview. While he mentions his friends, he makes no mention of his parents.
There is evidence to support this, with public opinion of same-sex marriage in North Carolina being clearly opposed in almost every single opinion poll – despite becoming officially legal since October 10, 2014.
He says his friends thought the offensive Vine below – where he compares being gay to having AIDS – was hilarious, and that he did not know any better.
Nash Grier's dad and manager, Chad Grier, has also chastised Nash in the past to the Charlotte Observer.
Nash Has a Very Long History of Being Anti-Gay, beyond That Vine
Nash conveniently leaves out the fact that he has a very long history of being anti-gay – from his stance on same-sex marriage, to his many uses of offensive terminology.
He tries to minimize this in his apology, by trying to convince readers that his only offense was that one Vine video.
Is Nash Suddenly Apologizing Because He's Been Rejected for Brand Deals?
A few days ago, Carter Reynolds went on YouNow and explained just how important having a good image is to making money.
Carter is managed by 26MGMT, a talent management firm run by Nash's own father Chad Grier, who definitely gave the same advice to Nash.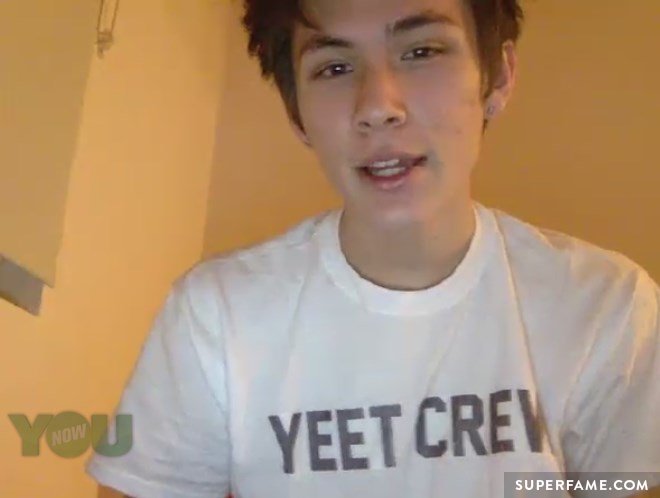 "Before, everyone has to keep a good image just to make yourself look good and all that sh*t. Everyone was telling me like, don't curse and all that sh*t. I don't give a f*ck."
"You have to keep a good image so you can get more brand deals. It's all about the money, guys. It's always about the money."
"I don't really have a good image at all, so you guys know that I'm definitely not all about the money."