Team Internet is really going places now.
You've probably already seen those photos of Justin Bieber walking around nude in Bora Bora, where he was vacationing with YouTuber Jayde Pierce (and Floyd Mayweather).
Were Justin's naked photos taken without permission – or part of a publicity scheme in a bid to take on One Direction on November 13? Nobody knows.
Justin and Jayde previously spent an entire week vacationing together, back in May.
Months Ago, Jayde Revealed How Justin Bieber Found Her in the First Place
Back in April, Justin first contacted Jayde after he found her Instagram. She had no idea how he found it.
Jayde was at a family gathering in London when she saw the verified Instagram tick by his name. "I thought, S***!"
The two started exchanging messages, and Bieber asked for her number. They texted each other very regularly. Then, after about four weeks of texting, Justin told her to fly to Los Angeles.
Jayde said that Justin, flanked by security guards, sang Cry Me A River to her next to a hot tub.
She then spent the rest of the week with Bieber, which caused the Beliebers to angrily taunt her with racist jibes.
During the week, they bought makeup, hiked at Runyon, visited an art festival, went to a recording studio and more.
She also revealed that Justin Bieber only works out at the gym to his own songs. "He's trying to build his chest and arms."
Jayde denied that she had sex with Justin Bieber – and said that they only cuddled and prayed.
Justin Bieber Vacations With Jayde in Bora Bora
A few days ago, Justin went vacationing in Bora Bora with Jayde (and Floyd Mayweather).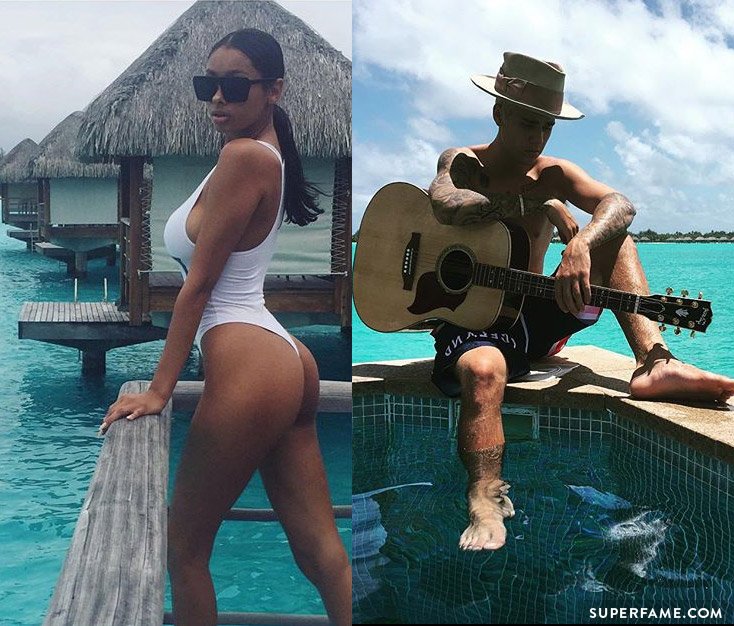 He walked around completely nude, and you've probably already seen the photos. Jayde was sitting in the background of his nude snaps, in a robe.
If you follow Jayde on Snapchat, you probably saw all her stories with Justin.
However, Jayde later announced that she broke her phone – so no more sexy updates from the pair.
Justin later revealed his brand new tattoo.
Internet Celebrities React to Justin Bieber's Nudes
Troye thought the shots were illegal, but was still down for some D.
Alex Ramos was excited by Bieber's p**** size.
Teala thought JB was everything.
Zach Clayton made an observation.