Tyler Oakley recently guest starred on an episode of MTV's Catfish. In order to promote the episode, the official, verified Catfish Twitter account tweeted Connor Franta – and asked him for a retweet to support his assumed "friend" Tyler Oakley.
Connor did not respond to the tweet, as fans widely believe that Connor Franta and Tyler Oakley had a mystery fight last year – which eventually resulted in unfollows and subtweets.
The MTV Catfish Twitter Account Asks Connor Franta for a Retweet to Support Tyler's Episode
It started when @CatfishMTV innocently tried to fish for a retweet from Connor Franta.
"Hey, Connor Franta. Give us a RT to show your excitement for Tyler Oakley on Catfish tonight," an MTV employee tweeted to Connor.
On the Catfish episode that aired on that day, Tyler aided a woman in meeting her friend from Instagram for the first time.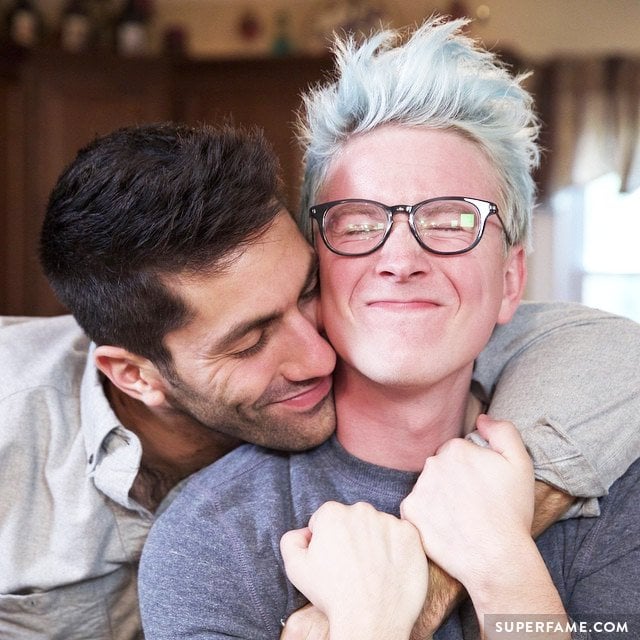 Connor Franta Ignores the Tweet, Catfish Asks Fans if Connor & Tyler Aren't Friends Now
Many fans immediately responded to Catfish's tweet to Connor, and mocked the account for misreading the duo's friendship status.
According to a Twitter user, The @CatfishMTV Twitter account allegedly sent over a direct message asking, "Okay, what did I miss. Are Connor and Tyler not friends? Please tell me, I am so confused."
Catfish Apologizes for Asking Connor to Support Tyler
The person running MTV's Catfish account then decides to apologize, after realizing their mistake.
"I didn't know okay," Catfish replies (in all-caps) to a fan.
"I apologize, I work all day and have not noticed anything about this issue OMG," they continue.
Why Do People Think Connor Franta & Tyler Oakley Are Not Friends Now?
Although there has been zero official confirmation of Tyler and Connor's falling out, fans have noticed their low-key feud for many months.
For example, Tyler Oakley removed Connor Franta and a few other YouTubers from his "People I Don't Hate" Featured Channels list on YouTube.
On the left is a screencap of Tyler's Featured Channels on July 4, 2014 (courtesy of The Internet Archive) – and the right screenshot is from today.
Connor also unfollowed Tyler's Instagram account sometime in October last year, and Tyler Oakley returned the favor a few weeks later.
The duo also stopped interacting publicly on social media, and have resorted to posting thinly-veiled indirect tweets about each other.
According to Conweets, Tyler and Connor last tweeted each other on September 10, 2014. The tweets below are their last public Twitter exchange, as of writing.
They do not publicly support each other's various projects, such as charity drives or product announcements.
They also try to avoid each other at various YouTube-related events, despite being pictured with all their other friends.
Their supposed rift made for awkward viewing when Connor Franta, Tyler Oakley, and Troye Sivan were paid to celebrate New Year's in Sydney for Telstra earlier this year.