Taylor Swift's team recently silenced Rose Ellen Dix and Rosie Spaughton's entire 30-minute wedding video – originally posted in April – because they briefly danced to Shake it Off.
Update: After a few days of fan protests – the audio has now been restored, and all is well! Watch the video below.
Taylor is known to be the most merciless copyright enforcer of all her pop star peers.
She takes down tweets from her own fan accounts, photos on Lady Gaga fan forums, parodies she doesn't like, Periscope streams, fan-made Etsy products, her guitar teacher, podcasts that recite lyrics – no medium is off-limits or too obscure.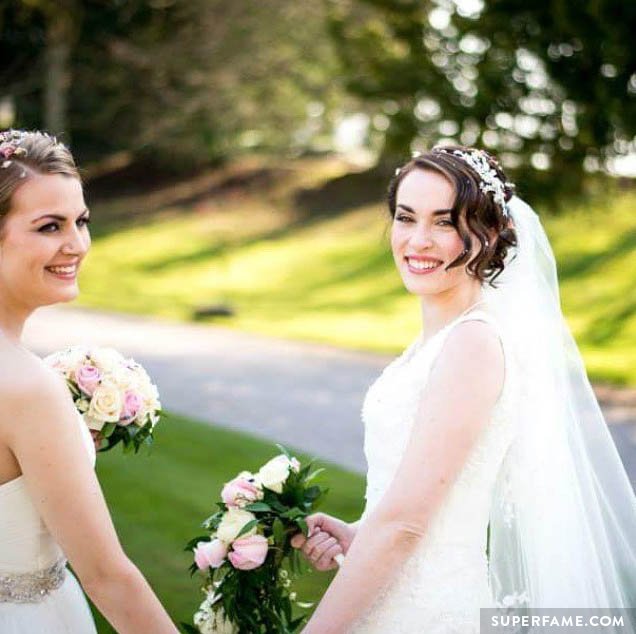 She has even made enemies out of YouTubers like Shane Dawson, who constantly talked about his dislike of Taylor after she took down his parody.
Rose Announces That Taylor Swift Muted Her Entire Wedding Video
If you play the wedding video below, you'll probably notice a lack of sound you can now hear the sound!
If you visit the video's page, you'll see a yellow notification about a copyright claim. "The audio track has been muted!"
Rose announced on Twitter, "Audio on our wedding video has been removed, because we danced to Shake It Off."
She defended herself, "We did not upload it to make money, and we have not!"
"I'm going to write Swift an open letter."
"We are huge fans, and only wanted to celebrate our love and share this joy with the world," Rosie later tweeted.
Rosie said that they were not actually angry at Taylor.
"We have now lost our vows, speeches and our entire audio!"
"No music was stolen! It was inside the video, bought by the DJ. We did not make money from it!"
Fans React
The overwhelming majority of fans were not happy with Taylor Swift. "Fuck you, Taylor Swift!" one blunt fan wrote.
Some joked about Taylor's reputation.
Others volunteered to infiltrate the #squad, to take Swift down from the inside.