"She can do better," some distraught Lovatics tweeted last week after it was announced that Demi Lovato is set to headline DigiFest NYC.
For a mere $35, you can witness Demi Lovato follow in the footsteps of chart-averse singers like Rebecca Black and Trevor Moran, on June 6 at New York's CitiField.
As Demi is able to hold sold-out worldwide arena tours – many fans are wondering if her latest career choice is damaging to her brand.
DigiFest Announces Demi Lovato Will Headline DigiFest NYC on June 6
For just $35 for a general admission "Bronze" ticket, you will be able to enjoy a host of Viners and YouTubers (and Demi Lovato) during the event.
In fact, the majority of VIP meet-and-greet tickets are already sold out.
DigiFest primarily consists of meet-and-greets, and various types of "performances" – which usually include anything from rapping, to challenges and tags.
Who Else Will Demi Lovato Be Performing With?
Although Demi is the headliner, other headliners include Trevor Moran, Aaron Carpenter, Lohanthony, Sam Pottorff, Rickey Thompson and Dylan Dauzat – shown below.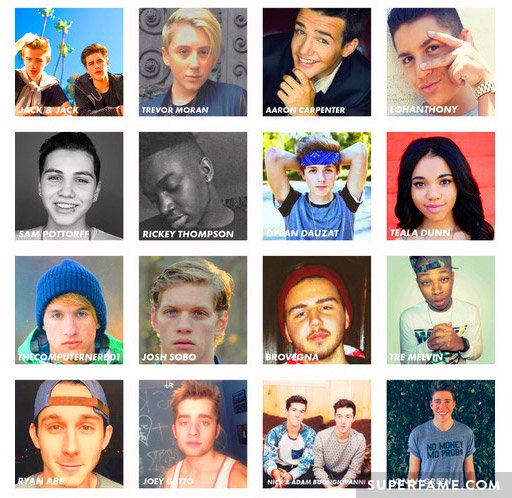 Fans React to the Announcement
"She's so much better than that. How sad OMFG," a fan tweeted.
For some reason, there was some drama with Fifth Harmony's Harmonizers.
Others wondered if Demi was being blackmailed into appearing.
Many thought it was a career downgrade.
It was not all bad, though. Many defended her, claiming it's a shrewd business move – and that it's only for one day.
Demi Does Not Look Down On Viners & YouTubers
In fact, Demi clearly does not look down on Viners and YouTubers – or lesser-known artists. She regularly invites them to her shows, and promotes them.
Demi even managed to forgive YouTuber Lohanthony after she found out he previously mocked her weight and mental health.
What do you think?