Shawn Mendes, who is releasing his album Handwritten this week, is currently encouraging fans to buy out all the stock of his album from stores – for a small chance to meet him.
Despite the fact that album buyouts are a common debut-week stan activity, the CBC reports that various Child Advocacy Groups are calling Shawn and Universial Music's latest marketing stunt "exploitative", "unethical" and "irresponsible".
Shawn Mendes Encourages Fans to Buy out Entire Stores of His Album Handwritten
"Go to your local retailer and BUY OUT all of their copies of the album and tweet a photo with #HandwrittenBuyouts and your location," Shawn urges. "Buy ALL the album copies!"
Buyers of the physical albums will have to sign up at Shawn's official website with the code inside.
If luck is on your side, your profile on the website will show a "Winner's Badge", which might entitle you to a "Golden Shawn Access Pass".
Winners of this mysterious pass will be able to win various prizes, including a "flyaway trip" to hang out with Shawn.
"Will you be the one to find the Golden Shawn Access Pass?" Shawn teases.
Shawn Mendes' Stunt Criticized By Child Advocacy Groups as 'Irresponsible'
Shawn and Universal Music's  latest marketing campaign immediately caught the attention of multiple child advocacy groups. Most were concerned about the young age of his fans.
According to CBC, Campaign for a Commercial-Free Childhood's Josh Golin branded the stunt "unethical", while claiming that it was "really concerning".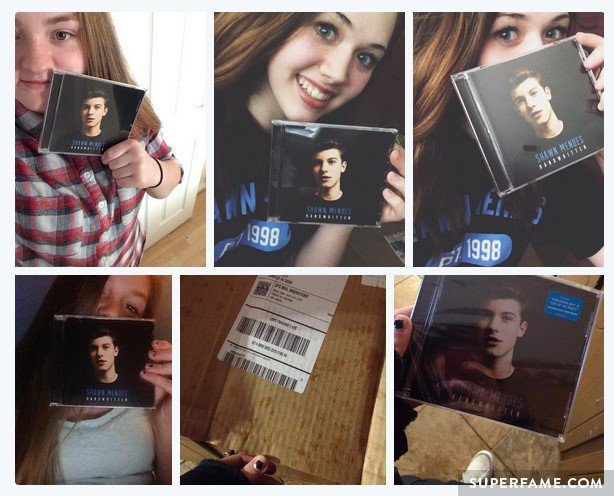 They said that kids are less likely to understand that the contest odds are stacked massively against them.
"To encourage kids to buy multiple copies…is exploitative."
Media Smarts' Matthew Johnson said, "Kids are going to be spending money that they don't really have."
"You're taking advantage of people who don't necessarily have the critical thinking skills…it's irresponsible."
Universal Music Canada did not respond to CBC.
Fans Don't Care, Go Crazy for the Contest
Shawn Mendes fans did not care at all about the controversy – or their tiny chances of winning the contest.
Many proudly tweeted photos of themselves completely buying out "Handwritten" stock from stores.
Shawn Mendes is Set to Debut at #1 on the Billboard 200 With Over 100,000 Sales
According to Billboard and HitsDailyDouble, Shawn Mendes is projected to move around 100,000-120,000 copies of his album Handwritten.
This will be enough to project him into the #1 spot on the Billboard 200. His previous EP managed to garner a #5 spot with 48,000 copies sold.
Shawn's main competition will be Reba McEntire's Love Somebody and Tyler, the Creator's Cherry Bomb – which are both projected to move around 55,000-65,000 copies each.
Is Shawn's marketing ploy really endangering children, or just another over-reaction?