Fans are shocked at Strawburry17's controversial new e-cigarette video, where she encourages young viewers to buy e-cigarettes in a ten-minute advertisement.
It's no secret that the overwhelming majority of YouTube viewers are pre-teens and teenagers – with the demographics skewing young for YouTubers like Meghan.
In a vlog on her side channel Lifeburry, Meghan visits an e-cig shop, and encourages her viewers to click the link in the description box to purchase e-cigarettes for themselves.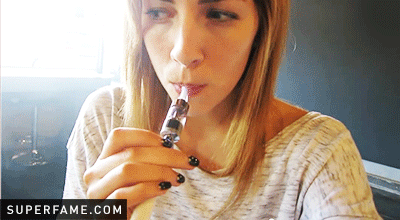 Meghan Edits in a Disclaimer to Ward off Criticism
Perhaps sensing the potential for controversy, Meghan splices in a disclaimer clip introducing the rest of the vlog.
"I would just like to clarify that I've never done any drugs before," Meghan explains. "I feel honest, this is the new Lifeburry. But I have smoked hookah before, and I'm not promoting smoking, or anything like that. This is just a really cool person that I met, and, uh, I'll let the vlog leak into that."
ARVE Error: API endpoint returned a 403 error. This can occur when a video has embedding disabled or restricted to certain domains.
"Yesterday, I met this guy that owns an e-cigarette shop, which is like the vapor smoke pins. And he said to come on by, and that he has a friend that can do the really, really cool tricks. I was like, oh that's awesome – I wanna like come by and check it out! So I'm gonna go to his shop right now, and see some of the cool stuff he has – because I have a cool idea for a video that involves some super slow-mo smoke vapors. Kind of like what I did with Joey Graceffa, but a little bit different."
Fans React to the Advertisement
The disclaimer did not seem to have dissuaded fans, as they swiftly reacted (mostly negatively) in the comments.
Other fans defended Meghan for exercising her rights.
Meghan Educates Viewers about E-Cigs
Viewers are then introduced to Jason, the owner of the company ECigVault, and employee Ryan.
Meghan, who has experience with promotional videos, helpfully prods the conversation along and asks, "What is the difference between e-cigs and normal cigs, because I feel like I don't know? I only did this once before, for a music video, and I want to do it again for another cool video I had in mind. But in the comments everyone was freaking out, and I just didn't know what to say. Some of them come without tobacco, right? So, what's the difference?"
"You're not consuming 4 thousand chemicals, only consuming 4 – artificial food extracts and so on," they helpfully reply.
They give her a guided tour of the facilities, and viewers are shown a variety of products, including colorful "starter kits" featuring friendly-sounding juices. Meghan is delighted, exclaiming, "I need to get one of these starter kits today! They are organic juices, too. I love organic. I guess this is like the Louis Vuitton of e-cigarette shops!"
The advertisement continues, and viewers are shown fancy-looking box mods, including some that look like lightsabers. Ryan explains, "Variable wattage mods can help you make cool tricks in the video. We build for you there."
Meghan prods the promotional spot along by asking, "Maybe I should try out some flavors, now that I have a good idea of the variations. You're gonna pick out some good flavors for me? A wide spectrum of things to choose from? Hit me! That sounds tasty!"
She is given a variety of flavors, as they explain the many fruit and candy options. "This is like W**** Wonka stuff," Meghan excitedly reacts.
Meghan smokes a few of them, including the Illuminati, and says, "But I do like these fruity flavors! That one's cool. You had me at strawberry! This one's pretty good. I guess this one's really good, the other was pretty light… quite delicious. This is kind of like an art, this is so interesting! Whoa."
Strawburry17 Urges Fans to Buy
Meghan then includes the most vital element of a YouTube product placement – the call to action.

"If they want to find you, where do they go? I'll put up the links in the description box below," she says as she points downward into the description box.