After months of over-the-top hype, the Shaytards launched their new clothing "company" Trixin to a disastrous fan reception.
Fans were led to believe that they would be seeing high quality, original designs that could "rival North Face" – not cheap, screen-printed, blank Gildan shirts with anodyne clip-art logos slapped on them.
Update: In response to fan criticism, they did a complete overhaul of the website.
Tipster Rouge told us, "Let's not forget that in the Trixin launch video they talked about how Trixin is gong to be such a unique and original brand…yeah right."
Additionally, the high prices, subscription fees, shipping costs, glitchy website and accusations of plagiarism have marred the launch with controversy.
Would You Pay a Monthly Membership Fee to Get This Clothing?
The Trixin store is split into two sections – House items and Union items. House items are described as "limited-time" and "limited-stock" items that anybody can purchase.
All available House items for this month are shown below. They are described as "sleek pieces of art".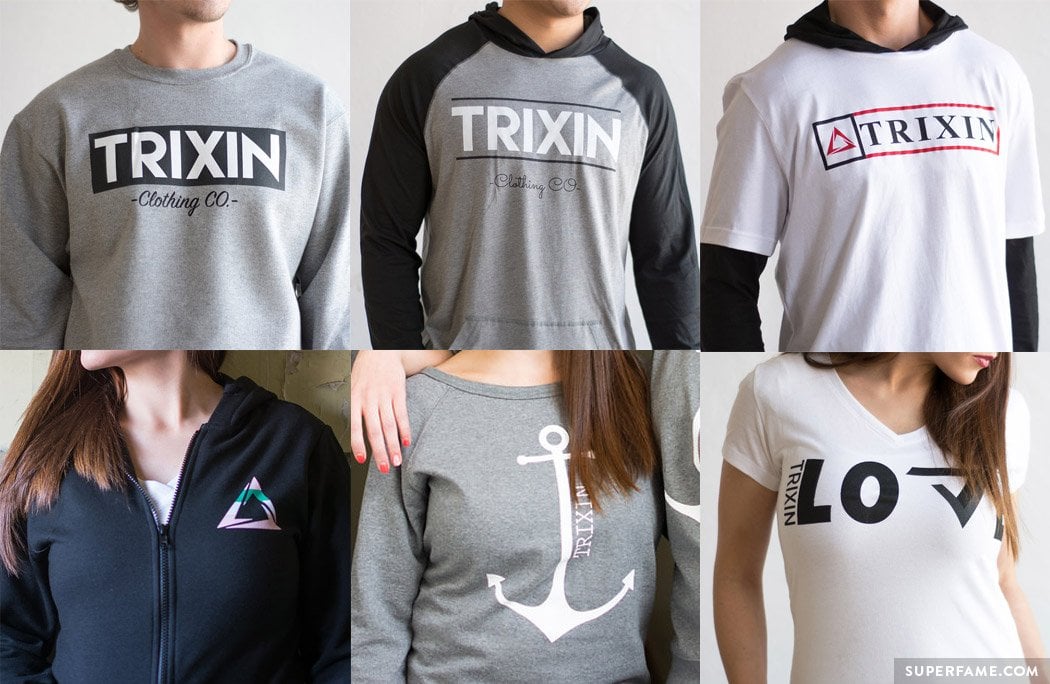 On the other hand, Union items require a monthly membership free – ranging from $19.99 to $79.99 per month. You are not allowed to see any of the Union items beforehand, if you haven't purchased a subscription.
Union members are supposed to get access to "unique products" not available to the general public. However, this month, there are zero unique items – just the same items shown above.
Additionally, Union subscribers receive a certain amount of "tokens" depending on the level of membership.
For example, for $79.99 a month, you get 85 tokens, which is equivalent to $85. This can buy you two hoodies a month.
Subscription fashion business models are currently all the rage. For example, Five Four Club charges men $60 a month for a personally-matched stylist to send you clothing every month.
Fans Point out There's No Refund Policy or Size Chart on the Glitchy Website
It appears that the Trixin website has been shoddily put up with a generic WooThemes theme called Storefront, and fans are complaining about various glitches and crashing.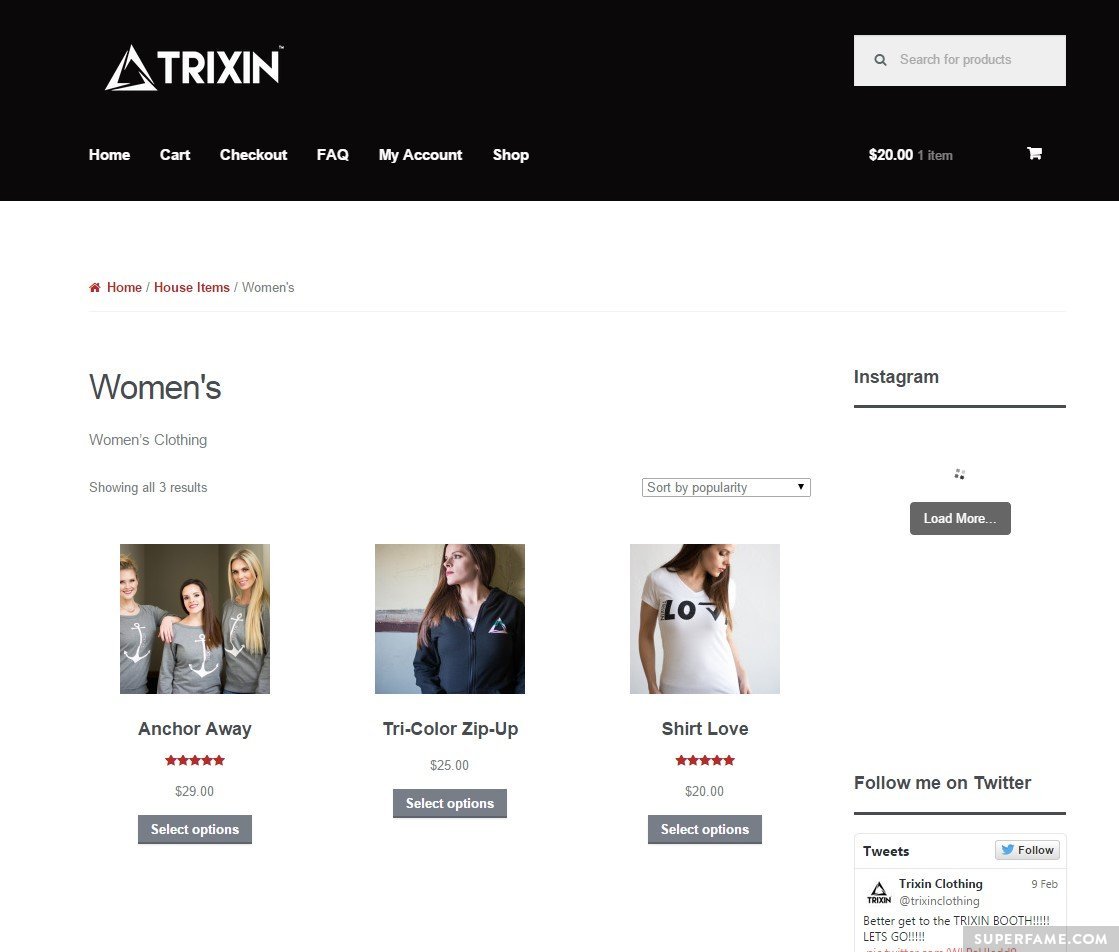 Additionally, there is no size chart on the website. However, since it appears like they are simply throwing a label on blank Gildan clothing, you can probably use Gildan's size chart here.
There is also no return policy on the website, and fans are baffled.
In fact, fans have resorted to posting YouTube comments on random videos, in the hopes that someone is able to contact them about exchanging clothing.
Some have even complained that their shipping costs are higher than the price of the actual shirts they're buying.
Fans Negatively React to Trixin
The fan reaction was overwhelmingly negative on their Facebook page, with barely a single positive comment to be found.
"You Trixin' him into buying," one said. "You won't have me as a customer."
Fans Mention Trixin Has the Same Name as Kidney Medication & Is Slang for a 'W****'
Trixin also happens to share the same name as a generic kidney medication. It is typically used to lower body immunity in order to allow a transplanted organ (like a kidney) to be accepted by the body.
The word Trixin is apparently also a slang term, a portmanteau of "trick" and "vixen" – used to insult women.
Fans Taunt Them with Memes, Claiming Their Logo Is More Fit for Toilet Paper
Some creative fans made memes mocking Trixin, and urged them to run a subscription-based toilet paper business, instead.
Fans Accuse Them of Copying Their Logo from Tritonal
Some fans accused them of plagiarizing their logo from musical duo Tritonal.
Here is a larger version of the two logos. Can you tell which is which?
However, we also argue that both of these logos appear to be very generic – and it is also likely they were both taken or bought from stock logo sites.
Fans Notice Gildan Boxes at the Trixin Booth & Accuse Them of Simply Printing Logos on Cheap Blank Shirts
ShayCarl also posted a video from Playlist Live that showed multiple Gildan boxes at their sales booth.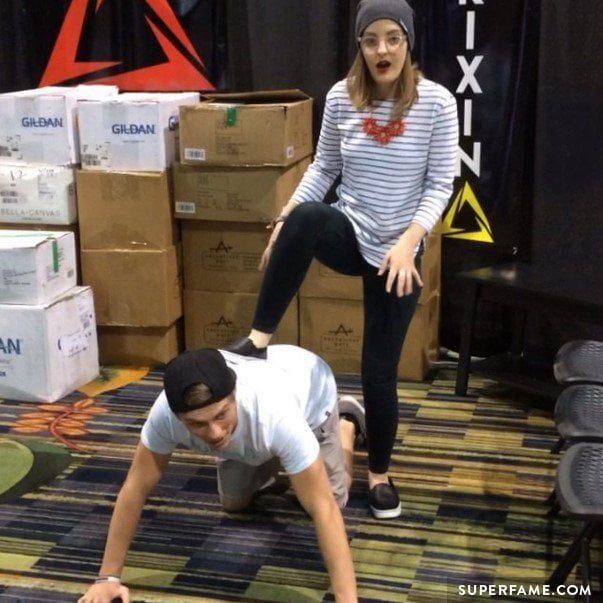 Gildan's primary business is selling cheap blank apparel for other people to screen-print.
Depending on the quantity purchased, a blank Gildan t-shirt can cost anywhere from $1 to $3 wholesale.
Fans are not amused at the bare-minimum effort and "insulting" attempt at leeching cash from fans.
Will you be buying from Trixin?