Earlier today, Alfie Deyes attacked an unofficial #Zalfie book written by author Jo Berry, who he branded a "random idiot".
The book describes itself as an unofficial guide to Alfie and girlfriend Zoella – like a typical "unofficial celebrity" book.
However, it turned out that most fans did not share his rage, as the book is completely legal and seemingly innocuous.
Instead, many fans turned on him, instead.
Alfie Deyes Furiously Demands Fans NOT Buy The "Stupid" Book by A "Random Idiot"
"Please can you NOT buy this book if you see it. It wasn't made by myself or Zoe – and is totally unofficial and stupid!" Alfie angrily tweeted.
He posted a photo of the book in question, which is titled, "The Alfie & Zoella A-Z: The Unofficial Ultimate Guide to the Vlogging Super-Couple".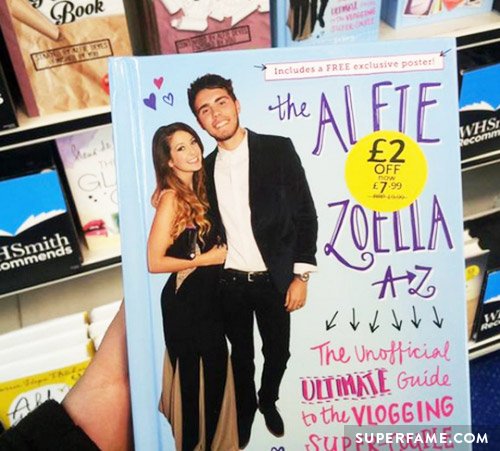 Alfie also attacked the author Jo Berry and/or the book's publisher.
"It's just some random idiot trying to use myself and Zoe to make money. NOT cool! Please don't buy it guys."
"Unofficial books suck. They are made by a random person using someone else's face without permission – just to make money. I dislike this!" he continued.
Alfie even targeted retailer WHSmith. "I'm also shocked at WHSmith for even stocking a book like this!"
Fans Bring up the Fact That Alfie Previously "Ripped off" a Fan's Merchandise Design "Without Permission"
Earlier this year, Alfie copied fan DreamsofDeyes' design to sell as his own official merchandise, without permission – which you can read more about here.
Fans found Alfie's rant about the unofficial book doing things "without permission", somewhat ironic.
Fans Also Accuse Him of Copying "Wreck This Journal" With His Own "The Pointless Book" Series
It did not stop there. Alfie probably did not expect the ruthless fan reaction he received.
Many fans barraged him with tweets accusing him of drawing inspiration from Keri Smith's activity log "Wreck This Journal" for his own two books.
"It should say 'Copy of Wreck This Journal' on the cover of your book…Your Uber is here, bye!"
Fans Bring up the #Zalfie Ghostwriting Scandals
Alfie's unfortunate decision to accuse the unofficial book of "using someone else's face" just "to make money" also backfired.
Fans drew parallels to Alfie's own ghostwritten book (and his girlfriend Zoella's) – which they claimed were also books "just using their faces" to "make money".
They also made fun of his accusation that the unofficial book "wasn't made by myself or Zoe" as the duo's ghostwritten books "weren't either".
Alfie Deletes His Angry Tweets, Backpedals
After his rant backfired spectacularly, Alfie backpedaled by deleting all his furious tweets – then put the blame on fans for "fighting".
"Deleted the tweets about it because you're all arguing with each other & I hate to see this," he tweeted.