Just when you thought Cameron Dallas and Carter Reynolds patched things up – the feud is back on!
What's the current source of the drama? Carter's ex-girlfriend Maggie Lindemann, of course.
Cameron Brings up Maggie Lindemann, Again
Despite Carter supposedly breaking up with Maggie already, Cameron decided to bring the topic up on Twitter – again!
Carter even posted messages on one of Carter's Instagram photos, urging Carter to "Come back!"
Carter Reynolds Calls Cameron Cocky on YouNow
Carter then officially responds to Cameron Dallas on YouNow, branding his advice, "Too much."
"Yeah, he can be giving me truthful advice, but at the same time, it's much! It is RUDE!"
"It gets to the point where it's too much. It's NOT right."
"He's being COCKY, as he's making it seem like he knows everything, but he doesn't."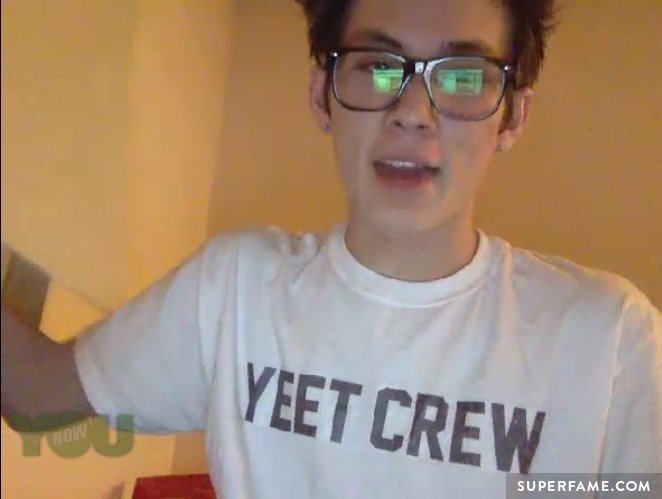 Cameron's Friend Marcus Starts Drama with Carter
For some reason, Cameron's close friend Marcus decides to stir the pot by getting Carter all riled up.
He insinuates that Carter is a "scared crybaby", and mentioned how Maggie never expressed interest in Carter before they got together.
Carter responds, saying Cameron's friends "suck a**".
Aaron Carpenter, Hayes Grier, Sam Pottorff & Taylor Caniff Get Involved
A wide variety of other Viners decide to get involved, with some supporting Carter, and others calling for peace.
Carter Reynolds Rants About Haters on YouNow
However, Carter was still very upset. He decided to go on YouNow for a 20-minute rant.
He begins by slamming fans for intruding into his personal and sex life.
"I'm not explaining anything. I don't need to. Just give it time. First of all, it's not your business," he tells fans.
Carter then responds to Taylor's tweets.
"Maggie is not my girlfriend. I'm not putting her in front of anyone, what are you talking about?"
He then takes aim at the "haters" that have been sending him death threats.
"Why the hell would you guys come to watch me if you don't like me? If you didn't care about me, you wouldn't be watching me right now! Thank you for the support, guys."
He takes aim at critics that say he's "changed".
"People have said that I've changed. It's not really me changing, I'm just the same guy I was 5 years ago. It's just me not pretending to be someone that I'm not on social media. I'm actually just being normal."
Cameron & Carter Delete Tweets, Patch Things Up
It all seems to be good for now, as Cameron and Carter decided to delete some of their more dramatic tweets.
Cameron even tweeted a message to his fans, saying that it is completely normal to argue with your friends. "We're in this together and it is worth it," he says.
In case there was any confusion about their relationship status, he tells Carter, "You're the man."