A few days ago, Carter Reynolds decided to post an old video of him kissing ex-girlfriend Maggie Lindemann over 21 times as they competed in a Chapstick Challenge.
Related Update: A controversial x-rated video featuring Carter & Maggie has leaked.
Because they are (supposedly) broken up due to Carter Reynolds' cheating, even Maggie Lindemann was shocked and confused as to why Carter decided to post the video on YouTube.
The original video was filmed on October 23 2014, and they supposedly split in November 2014.
Carter Reynolds Posts the Romantic Video on His YouTube Channel
In the video, the then-lovers taste different chapstick flavors by kissing each other – again and again.
They try to guess the chapstick flavors on each other's lips – from cherry to lemonade. Maggie won and was allowed to tweet 3 things from Carter's Twitter account. The tweets are still up, and were posted on the 23rd of October, meaning that the video is over 3 months old.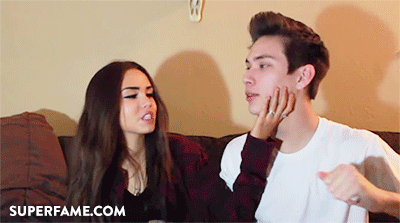 You can watch the video below.
ARVE Error: API endpoint returned a 403 error. This can occur when a video has embedding disabled or restricted to certain domains.
It should be noted that despite them having a public breakup over Carter's sexting, some fans think they're actually still together and are trying to hide the relationship from fan scrutiny.
Fans React to the Video
A lot of fans were confused as to why Carter posted the video. The top comments criticized them for being "the world's most annoying couple".
Their close friend Teala Dunn branded them "OTP" – despite them being supposedly broken up. This lead fans to believe that #Caggie is still together.
Maggie had a lot of fans.
Many defended her from hate, asking why Carter would post the video knowing that it would result in further abuse to Maggie.
As usual, she also had plenty of haters.
Maggie Lindemann Reacts to the Video
Maggie was definitely not a fan. "Omg chill with the Caggie s**t. That video is old AF," she tweeted.
Is It Because Carter Needs Pocket Money from Audible.Com?
A likely explanation for the video might lie in its sponsor.
Carter splices in a clip of him shilling for Audible.com near the end of the video.