The YouTube health gurus are set to wage a legal battle after Kayla Itsines and her partner Tobias Pearce were allegedly defamed by Freelee the Banana Girl and Durianrider (Harley Johnstone).
Controversial vegan Freelea is famous on YouTube as a "concern troll", and piggybacks off popular YouTube personalities by criticizing their diet and health in order to garner views, which she recently did with Gigi Gorgeous. She is regularly embroiled in feuds – most famously with Jenna Marbles and Trisha Paytas after she attacked them with multiple videos. However, now, one of her targets is fighting back.
Although many fans often refer to Freelee as a "bully", Freelee and Harley insist Kayla is the real bully, saying, "When a bully bullies you, stand your ground."
Freelee & Durianrider Purchase Kayla's Health Guides, Accuse Her Of "Starving" Fans with Low-Calorie Diet
It all began when, for some reason, the duo decide to purchase the following health guides for roughly $120. "I felt it was a rip-off," Harley says in a video.
They take apart various elements of the guides – and roundly criticize the low-calorie diet Kayla suggests. In particular, they take offense at the "1600 calorie" number suggested by a guide, and claim it is "starvation" according to the World Health Organization.
However, they take it one step further with potentially defamatory statements on various social media platforms, including YouTube.
They accuse Kayla's beau of (illegal) steroid use, claim Kayla is a fraud – and claim that she's unhealthy, anorexic, and intentionally promotes anorexia and starvation. They also accuse the before-and-after marketing material of being "fake".
They eventually deleted the majority of their Kayla-trashing videos from both of their channels, after legal fears.
Kayla Itsines Announces She's Suing Freelee for Making Various Defamatory Statements
Kayla and her partner Tobi then initate a civil case with the Supreme Court of South Australia.
Although Freelee and Harley believe that Kayla is suing them for "giving an honest review" and "sharing an opinion about nutrition" – Kayla disputes this.
"I welcome any reviews, negative or positive…I have no regrets and nothing to hide." she wrote on Facebook.
Kayla fired back in an Instagram post rejecting their claims that she's suing because of a bad review.
Kayla confirmed that she's suing because of defamatory statements, including "false claims that my partner takes steroids", "claims that I'm starving myself or other people & promoting anorexia" and "claims I am a fraud".
Durianrider, Freelee & Kayla Delete & Block Negative Comments
Despite arguing that their "free speech" is being attacked, both Freelee and Harley tried to delete negative comments from their various social media accounts. However, they eventually gave up.
"So much for freedom of speech," a Kayla fan wrote.
They weren't alone. Kayla Itsines also decided to delete and block critical comments. "What a stupid money hungry woman," a Freelee fan wrote.
Durianrider & Freelee Compare Themselves to Rosa Parks, Slam Kayla for Wasting the Court's Time When "Pedophiles & Rapists" Are Around
"I'm a big fan of Rosa Parks," Harley explains. He draws a comparison between Rosa's situation to their own.
"Black people were not allowed to have a seat. So she sat down. She took a stand. She stood up to the corporations, the greedy people. And said that this is wrong and this has got to change."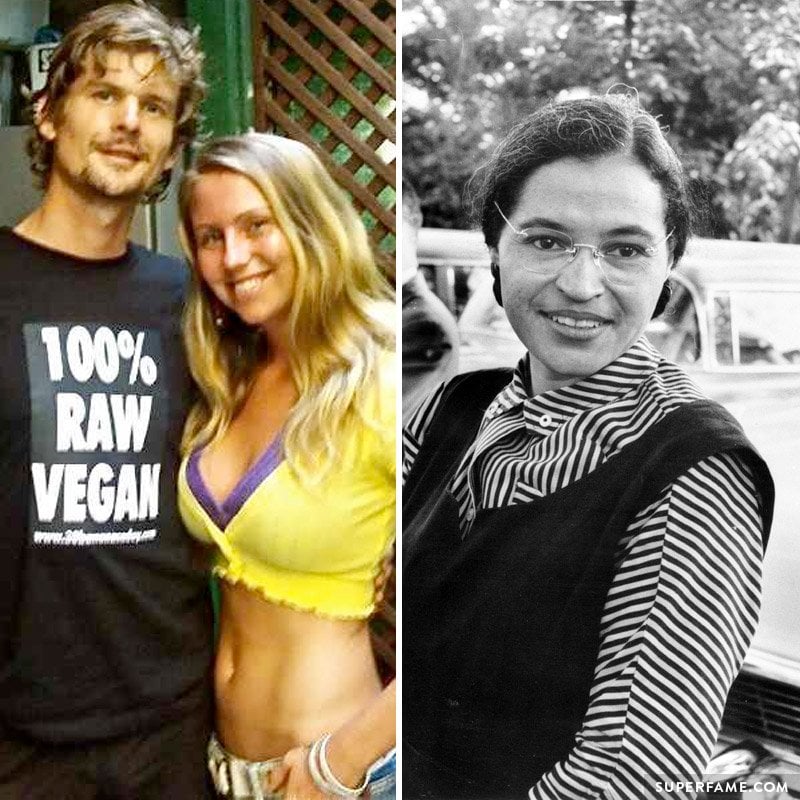 Harley also explains how he thinks Kayla is wasting court time.
"Do you think that's a waste of the court's time? We've got enough pedophiles and rapists in South Australia that are on the street and can't get a court date. Because the courts are flooded with crap like this. Out-f******-rageous." Harley exclaims.
They then urge fans to protest, make videos and to use the hashtag #kaylastopthesuing. They also threaten Kayla that they "will go the media" if she continues with legal action.
Are you Team Freelee and Harley, or Team Kayla and Tobi?