Cameron Dallas decided to go with some good old-fashioned peer pressure by putting his friends on blast, to reboot Magcon – and things got messy.
Update: Hayes Grier just called Cameron a backstabber.
The "original" Magcon originally disintegrated due to contract disputes, and is currently a shadow of its former self.
As of writing, it's #4OutOf9SoFar, with Cameron Dallas, Carter Reynolds, Taylor Caniff and Aaron Carpenter tipped to join a worldwide Magcon reunion tour.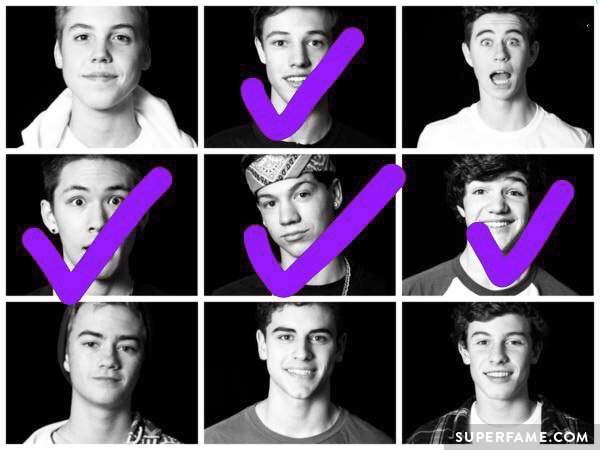 Cameron Dallas Tries to Guilt Trip the Magcon Boys Into Getting Back Together
Cameron Dallas is seriously considering getting Magcon back together, and goes on a huge tweeting spree.
He warns fans that Nash Grier and Matt Espinosa are unlikely to join in, as they think it's bad for their brand.
"Give them time," Cameron says to fans. He urges fans to guilt trip the duo on Twitter.
Cameron says he doesn't personally blame them, and accuses people of talking in their ear.
"God will show the real from the FAKE," Cameron warns.
Carter Reynolds Wants Magcon Back, Calls out Nash & Matt
Carter Reynolds, who often teases fans about a reunion, happily jumped on board.
"I will never leave Magcon in the past," he says.
He joins Cameron in putting pressure on both Nash and Matt. "What happened to being a FAMILY?"
"I don't care if some of the guys don't do Magcon, that's their loss," he says.
After Some Convincing, Taylor Caniff Joins In
Taylor Caniff was originally quite hesitant to join, as he is often on his own tours.
Cameron Dallas did his best to convince him to join Magcon again.
Taylor Caniff now says he's definitely in!
Taylor also joins Carter and Cameron in calling out Nash and Matt. He says they are ditching what got them millions of followers in the first place.
Hayes Grier Says No, but Cameron Dallas Exposes Him
Hayes Grier appears to have no intention of joining Magcon, "There's 100,000 tours to go on. It would be really difficult to do…and other things have been planned for the future."
However, Cameron Dallas exposed Hayes. Cameron claims that Hayes DID originally want to own the tour – but also wanted to shaft the other members with "a little fee".
"Oh s***, that's why you wanna own the tour with just Nash and me and just pay the other guys a little fee?" Cameron says in a now-deleted tweet.
Nash Grier Rejects Cameron's Offer, Defends the Jacks & Shawn Mendes for Not Joining
Nash Grier was far more blunt on Instagram. He says the Magcon name is bad for his brand image.
"The name limits us. Most of us want something bigger than that."
Nash also defends the Jacks and Shawn Mendes. "We're all progressing in our careers."
"We're better than this…some things are just meant to stay in the past," Nash continues.
Matt Espinosa Is Very Hesitant, Takes on Cameron Dallas: "Don't Speak for Me!"
Matt Espinosa appeared quite annoyed on Twitter.
Matt accuses Cameron of having ulterior motives. "Bruh, all you literally did was just buy the name Magcon. Which is why you want us to do it again!"
"If he really cared about getting us back, then he would have approached us," he says about Cam.
He takes on Cameron. "Don't speak for me and say that I don't want to be a part of it."
He urges fans to not buy Cameron's story 100%, and to look from his perspective.
Aaron Carpenter Wants to Join Magcon
Aaron Carpenter wanted in. "Magcon was the best event I've ever been a part of. Why wouldn't I go back?"
Jacob Whitesides, Who Wasn't Invited, Speaks Out
Black Magcon sheep Jacob Whitesides clearly wasn't invited to the reunion, judging by Cameron, Carter and Taylor's #4OutOf9SoFar tweets.
However, he says, "I thought everyone was doing great on their own."
[total-poll id=6096]