Taylor Caniff posted an Instagram video of his house supposedly being raided by police, after a 4th of July gathering – but promptly deleted it after fans started to worry.
Update: According to public court documents, Taylor is supposed to have an initial hearing on October 5, 2015 (for various marijuana and common nuisance charges).
On the Instagram caption, Taylor wrote that his friends left drugs behind at his house after the get-together. He also wrote that the cops claimed to have found marijuana in his Jeep, although he previously said he doesn't smoke pot.
"It's all cool now," he tweeted after deleting the video from Instagram. He claimed that the video was "accidentally posted" after he updated the app.
Taylor Caniff Posts a Screen Recording of a Cop Raid Video
Taylor Caniff posted the following video on Instagram. Due to the edges of the video, it appeared that he was recording another screen.
Additionally, due to the differences in volume, it seemed that he was simply talking over the video.
Taylor posted a very lengthy caption to accompany the video.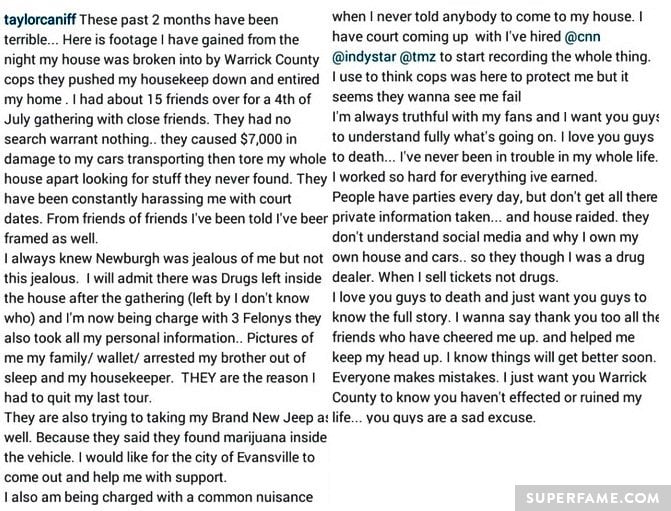 "These past two months have been terrible… Here is footage I have gained from the night my house was broken into by Warrick County cops. They pushed my housekeeper down and entered my home," he began.
Cameron Dallas wasn't buying it, and commented, "This is fake?"
Taylor Caniff Claims "Drugs" Were Found in His House, Left Behind by Party-Goers
"I had about 15 friends over for a 4th of July gathering with close friends. The [police] had no search warrant, nothing… They caused $7,000 in damage to my cars, transporting then. Tore my whole house apart looking for stuff they never found. They have been constantly harassing me with court dates. From friends of friends I've been told that I've been framed as well. I always knew Newburgh was jealous of me, but not this jealous."
"I will admit there were drugs left inside the house after the gathering (left by I don't know who) and right now I'm being charged with 3 felonies. They also took all my personal information. Pictures of me, my family, wallet – arrested my brother out of sleep and my housekeeper."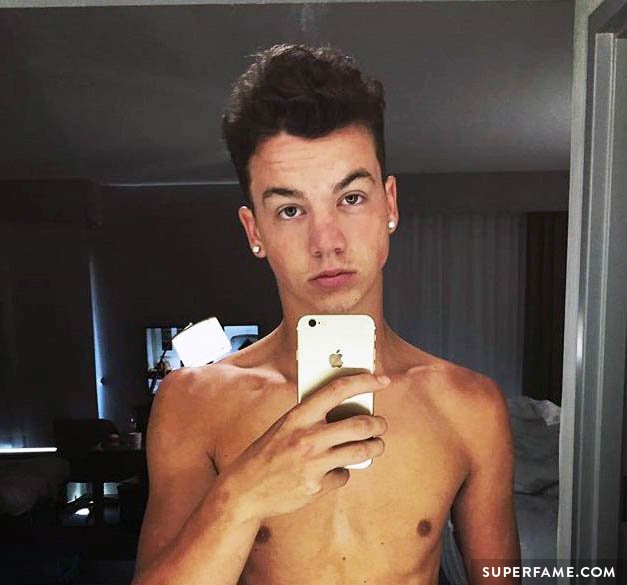 "THEY are the reason I had to quit my last tour. They are also trying to take my brand new jeep as well. Because they said they found marijuana inside the vehicle."
"I sell tickets not drugs. I love you guys to death and just want you guys to know the full story."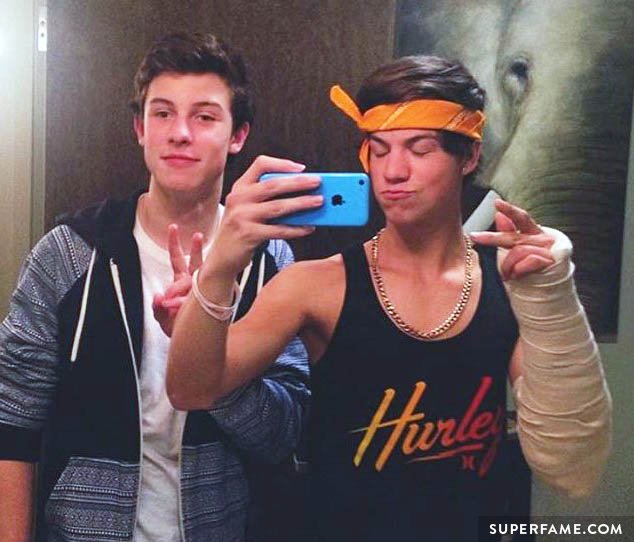 "People have parties every day, but don't get all their private information taken and house raided. They don't understand social media and why I own my own house and cars, so they thought I was a drug dealer."
"I would like for the city of Evansville to come out and help me with support. I also am being charged with being a common nuisance when I never told anybody to come to my house."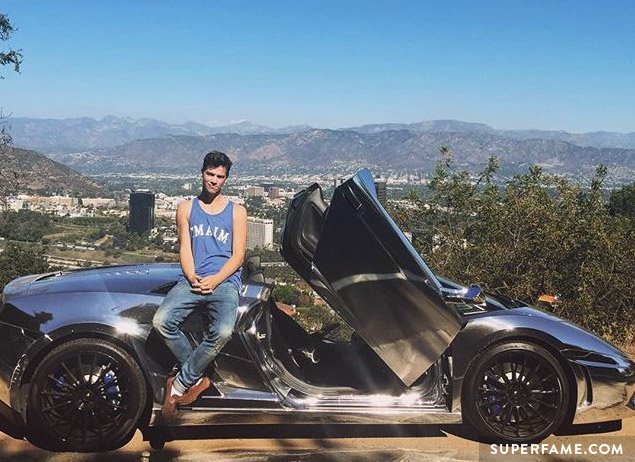 "I have court coming up. I've hired @cnn, @indystar, @tmz to start recording the whole thing. I used to think cops were there to protect me, but it seems they wanna see me fail. I'm always truthful with my fans."
Taylor Caniff Deletes the Video, Backpedals: "It's All Good Now"
He deleted the video from Instagram after scared fans reacted.
"That video I uploaded to Instagram was from a long time ago," he said. "It uploaded when I updated Instagram. Haha. It's all good now! Haha."
For more information, click here to see all the felony charges that Taylor is facing.