Hayes Grier is not happy. As of writing, Hayes' Twitter account has lost its blue verified tick.
We think it's probably just a simple mistake!
Twitter Removes the Blue Checkmark from Hayes Grier's Username
As of writing, Hayes' Twitter (@hayesgrier) is missing its trademark blue tick.
While we don't exactly know what caused this particular case, here are some possible reasons.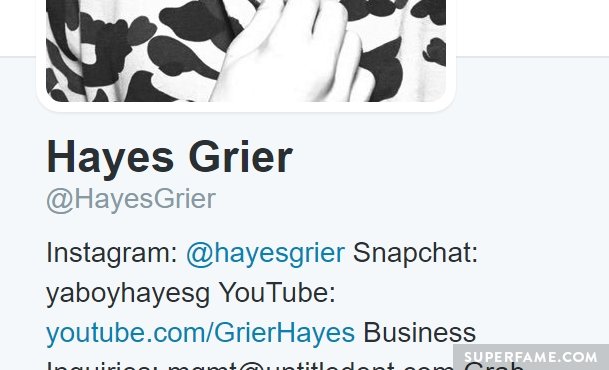 For example, If a verified user decides to protect their tweets / lock their account, they will lose the verified tick. Just ask YouTuber Gabby!
Changing the username (or some other profile information) will also cause the mark to disappear. However, his username is the same.
Twitter might also remove verification if the user violates Twitter's rules, which doesn't seem to have happened this time.
Hayes Grier Wants His Twitter Verification Back!
Hayes Grier went on Twitter to complain about Twitter. "D***," he wrote. "Twitter hit me… with the un-verify!" He was shocked, and didn't know what happened.
"Come on Twitter!" he wrote.
This morning, Hayes realized his tick STILL wasn't back, and tweeted at @Support. "D***! Still no check?"
"Y'all got me f***** up," he tweeted.
He liked a tweet from a fan who jokingly blamed DigiTour. Remember Hayes' feud with them?
Hayes also liked this tweet complaining that "everything bad" always happens to him.
We think the tick will be back soon!