Madison Beer quickly responded after her ex-boyfriend Jack Gilinsky's best friend Jack Johnson lashed out at her in a new YouTube video.
Jack Johnson revealed that Madison Beer was the one who leaked the shocking audio clips of Jack Gilinsky's verbal abuse herself. However, he did not actually disagree or dispute any of the actual accusations.
Jack Gilinsky fans were outraged on Twitter by Johnson's reveal, and trended #MadisonBeerIsOverParty. They appeared to be mad with different reasons. Some were angry that Madison "ruined Gilinsky's career". Others were furious that she was behind @HackedMadison instead of releasing the tapes directly. Others accused her of "playing a victim" and didn't believe anything she wrote.
Madison Beer Confirms She Was Behind the Leaks, but Doubles Down
Madison Beer and her fans were upset that "the source of the leaks" became the story instead of the abuse accusations themselves. It appeared to them that Gilinsky fans were using the new development as a deflection mechanism in order to shift the blame and attention away from the allegations.
"Why am I to blame?" she wrote. "The video is real. The abuse is real. There's no going around it."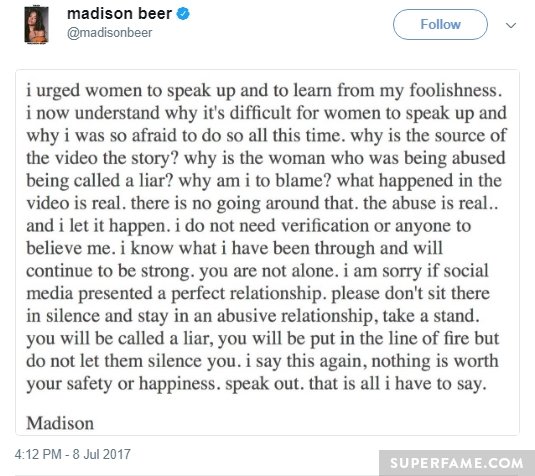 In a note Madison allegedly released via the @HackedMadison account, she revealed that there was also alleged physical abuse, and self-harm.
She urged those in abusive relationships to stand up and be strong. "People will call you a liar, but do NOT be silenced when you are in the line of fire. Speak out!"
She also liked a series of tweets on Twitter (below). Madison's fans said that "she did what she had to do" to spread awareness as she was scared of the reception if she did it directly.
"Who cares if she leaked it?" someone wrote in another tweet she liked. "She wanted to bring up an important topic."
"Do not stress," another said. "People want to try and turn it on you simply because they do not want to believe Gilinsky was abusive."
After some Gilinsky fans accused her of "faking self-harm", Madison revealed that she never lied. "Women are afraid to speak up."
"She is courageous," another liked tweet said. "You people should be ashamed of yourselves."