Last week, Maggie Lindemann defended her ex Carter Reynolds from accusations of rape.
If you need a refresher, the entire thing was started by a leaked nude tape. It eventually escalated into hospitalization and suicide fears.
Carter was very unhappy that Maggie did not immediately defend him, and leaked secrets about her in retaliation.
Despite everything that happened, Maggie took to Twitter in defense of her ex.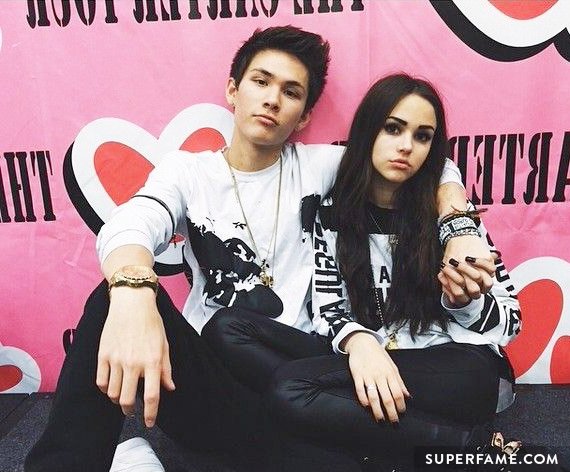 Fans Taunt Carter Reynolds With Rape Jokes
Ever since the original videos leaked, Carter was branded a "statutory rapist", and could not escape it anywhere on social media.
Carter's mentions on Twitter were filled with constant rape puns, jokes and memes.
In fact, "Carter Rapenolds" was a popular moniker used by fans.
Every single one of Carter's tweets get bombarded with replies exactly like this one.
On a recent YouNow, Carter joked, "You can just type in rape [on Twitter], and my name will show up."
Pierre Balian suggested making rape-related merchandise to Carter, "We might as well make some merchandise that says #rapist, you know what I'm saying?"
Maggie Lindemann Defends Carter Reynolds: "He Did Not Ever Rape Me"
"I wasn't supposed to comment on the situation for multiple reasons, but I can't stand seeing it anymore."
"Carter NEVER raped me. I'm tired of seeing people call him a rapist…He didn't ever rape me. End of story."
"It's f****** sick…and been really hurting my heart seeing him get called such harsh things. I don't care at this point what he has said about me."
"Being called a rapist is definitely the worst thing."
"I care about him a lot but it just did not work. Please just drop it."
She apologized to Carter. "I'm sorry for not saying something sooner."
"I'm not excusing any of the actions he has made, but I am coming out, asking you to please stop with the rape jokes. It is not funny."
She also explained why she chose to initially keep quiet.
Carter Thanks Maggie
Carter eventually thanked Maggie. "It's okay," he tweeted.
[total-poll id=8138]