Hayes Grier and Carter Reynolds are trending worldwide after Carter decided to go on a vindictive b******-related rant against ex-girlfriend Maggie Lindemann on YouNow.
Update: Carter revealed suicidal thoughts after his attempt to shame Maggie backfired.
Carter, who is currently trying to recover from a controversial sex scandal, decided to cause trouble by accusing his ex of engaging in alleged sexual exploits with his friends – and the news quickly went viral.
Carter Reynolds Goes on a YouNow Rant, Threatens Maggie: "I Am About to Go In!"
Carter, who previously went on a YouNow rant yesterday about Maggie, decided to continue today.
However, he ramped up the aggression level after he read some new tweets from her account. "Right now I f****** hate her. She shouldn't have said the s*** she said this morning."
"She could give two s**** about me. I am about to GO IN right now!"
Carter Reynolds Tries to Shame Maggie by Bringing up Hayes & Revealing Alleged Secrets
Carter Reynolds, who previously admitted that he cheated on Maggie, tried to turn the tables against her by telling some stories.
Carter also attempted to drag Lucky Smith and friend Teala Dunn into his sordid tale. However, he saved his biggest allegation for last.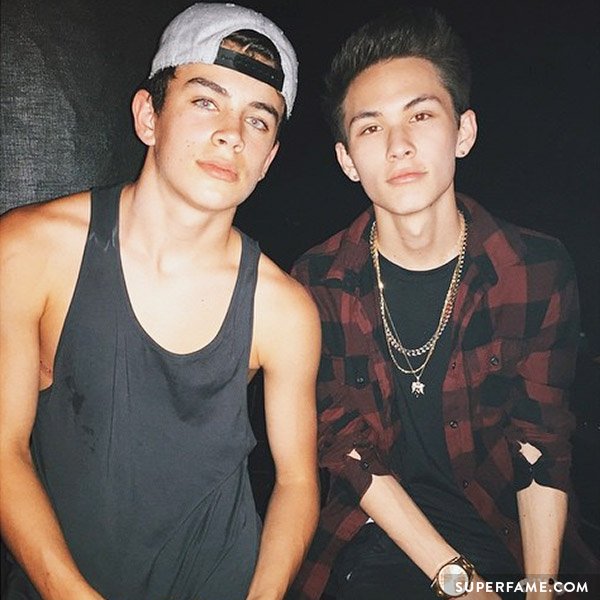 Carter also decided to include a graphic, x-rated allegation featuring Hayes Grier and Maggie Lindemann, for whatever reason (video below).
He also mentioned that he was "cool" with Hayes.
Maggie Lindemann Denies a Fan's Claim About Hayes Grier, Allegedly Threatens Police Involvement
"Moral of the story, leave me alone and stop being an attention w****. You're sick," Maggie tweeted to Carter during the live stream.
According to Carter, he was getting texts from Maggie during the live stream, threatening police involvement, shown in the video below.
Maggie also replied to a fan who accused her of having relations with Hayes Grier. "You f***** Hayes Grier, yikes!" the fan tweeted. "Uh no!" Maggie replied.
Maggie Blasts Carter Reynolds: "We Are Nothing!"
Carter also decided to elaborate on his story yesterday after Maggie suggested that he was only trying to make himself look good.
"On screen he acts like he loves me and needs me, blah blah. But in real life, he yells at me and threatens me. Get it through your head – we are nothing," Maggie tweeted.
Carter confirmed Maggie's assertion that he threatened to ruin her life. "I did say I was going to ruin her life," he admitted.
"Obviously I didn't mean it. Maggie, I'm not going to ruin your life."
Carter Reynolds Gets a Mystery Phone Call, Mutes the Stream, Deletes the Broadcast – Fans Thought Cops Were Coming
Carter got a mysterious phone call during the YouNow stream, and he decided to mute the audio – as shown in the video below.
"I have to go guys. Um. I just heard something that I did not want to hear…s***."
He rubbed his eyes, and abruptly stopped the stream. He also decided to delete the entire broadcast.
Fans panicked and assumed that Carter was about to be arrested and thrown into jail.
After Carter Goes Offline, Even Taylor Caniff Was Confused: "What the Fuck Is Going On?"
Carter's friend Taylor Caniff was also innocently broadcasting on YouNow when he was bombarded with comments asking if Carter was in jail. "What the fuck is going on?" Taylor tweeted.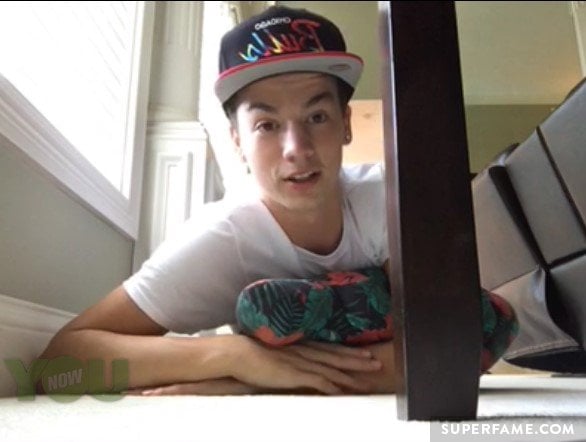 After gathering more information, he urged fans to stop commenting. "I wish you guys would stop commenting 'sucking off' and stuff. If that did happen, I wouldn't share it on the internet."
Taylor also urged fans to look at #Jadison for a better example of a decent relationship, and not Carter and Maggie.
Carter Returns to Twitter, Reveals He Has Not Been Arrested & Is Now Cool With Maggie (For a Minute, Anyway)
"I'm fine," Carter eventually tweeted.
Carter also apologized for mentioning names.
He revealed that he was not going to jail.
He also revealed that he was now "okay" with Maggie (who was actually in the hospital).
However, he later backtracked and insulted Maggie. "Maggie is saying I'm the reason why she's in the hospital."
Hayes Grier Reacts to the Scandal
Hayes Grier reacted by posting a series of cryptic tweets, including a photo of Carter Reynolds. "Dumbest of the dumb," he said.
Maggie Lindemann Apologizes, Goes on a Social Media Break
For some reason, Maggie decided to apologize on Twitter. "I make mistakes and I'm sorry. Hopefully you can forgive me for them."
She also decided to take a social media break, and thanked her fans.
Update: Carter Reveals Suicidal Thoughts
Carter tweeted suicidal thoughts due to backlash.
[total-poll id=7349]